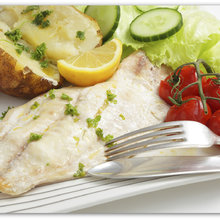 Meat and fish
The Sana Smart Bread is useful not just for baking bread, but as a substitute for a conventional oven. Meat and fish cooked in the Sana Smart Bread Maker are flavorful and juicy, which can't always be said when using a conventional oven. By using a glass lid with the Smart Bread Maker, the cooking time is shortened and the meat comes out incredibly moist and delicious. [Deco: /storage/img/%size%/700-depositphotos_12861683_original.jpg: Dom 640% C3% A1c% C3% AD% C3% PEK A1rna Sana SmartBreadMaker]
Advantages of cooking meat in the Sana Smart Bread Maker
The taste is extraordinary.
Meats and fish are juicier than in a conventional oven.
Food preparation is very easy. For example, you can add potatoes to your meat and have an easy meal in one pan with almost no work.
It uses less energy than an oven.
Easy cleanup – just one dish needs to be washed.
Save time. You can set and forget the Smart Bread Maker. It will adjust cooking times and temperatures according to the selected program and then turn itself off or keep things warm. You can be out taking a walk and come home to a warm meal ready to eat!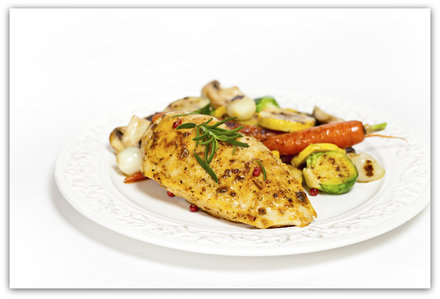 Rosemary chicken in the Sana Smart Bread Maker

Ingredients for 2 servings:
2 chicken breasts
4 small potatoes
1 zucchini sliced
1 carrot sliced
125 g mushrooms
3 cloves of garlic, chopped
fresh rosemary
salt, pepper



Instructions: Put all the ingredients in the pan - chicken breasts, unpeeled potatoes, mushrooms (whole or cut in half), zucchini, carrots, garlic, salt, pepper, and chopped rosemary on top. Cover the pan with the glass lid, and set the controls for baking at 220C for 1 hour.
Other tips
The Sana Smart Bread Maker is also great for meat loaf. It will be juicier than when it cooks in the oven. It will also be extra tasty, because the Smart Bread Maker will blend the ingredients together with the kneading paddles. Simply place all the ingredients into the pan, let them knead, and then bake at 180-200 ° C for about an hour and a half. You can adjust the time and temperature depending on how big your meat loaf is, and how well-done you prefer it.
When using the Sana Smart Bread Maker, you'll immediately see the benefits of slow cooking. Meats are light and juicy, and never dried out. If you cook chicken or rabbit set it to a two-phase program - for example, two hours at 110 ° C
and 4 hours at 90 ° C. Fish requires a shorter cooking time and a lower temperature: the first hour at 100 ° C, the second hour at 90 ° C and the third at 80 ° C. It depends on the type of meat or fish and also on the thickness of the meat. We don't recommend baking for more than 12 hours, as the meat will become flaky and fall apart.
The Smart Bread Maker can also bake lasagna, cook stews, or prepare broth.